AI-powered parcel shipping UI/UX design concept
Crafted by mobile UI/UX design experts, this concept revolutionizes the shipping process by using AI to scan and assess items, thereby recommending optimal parcel shipping solutions. It combines intuitive design with powerful functionality, streamlining your shipping tasks like never before.
Functionality
This design concept is an AI-powered mobile application that simplifies and accelerates parcel shipping tasks. With the help of AI, the app scans an item for shipment, evaluates its dimensions and characteristics, and then recommends the most efficient packaging and method of handling.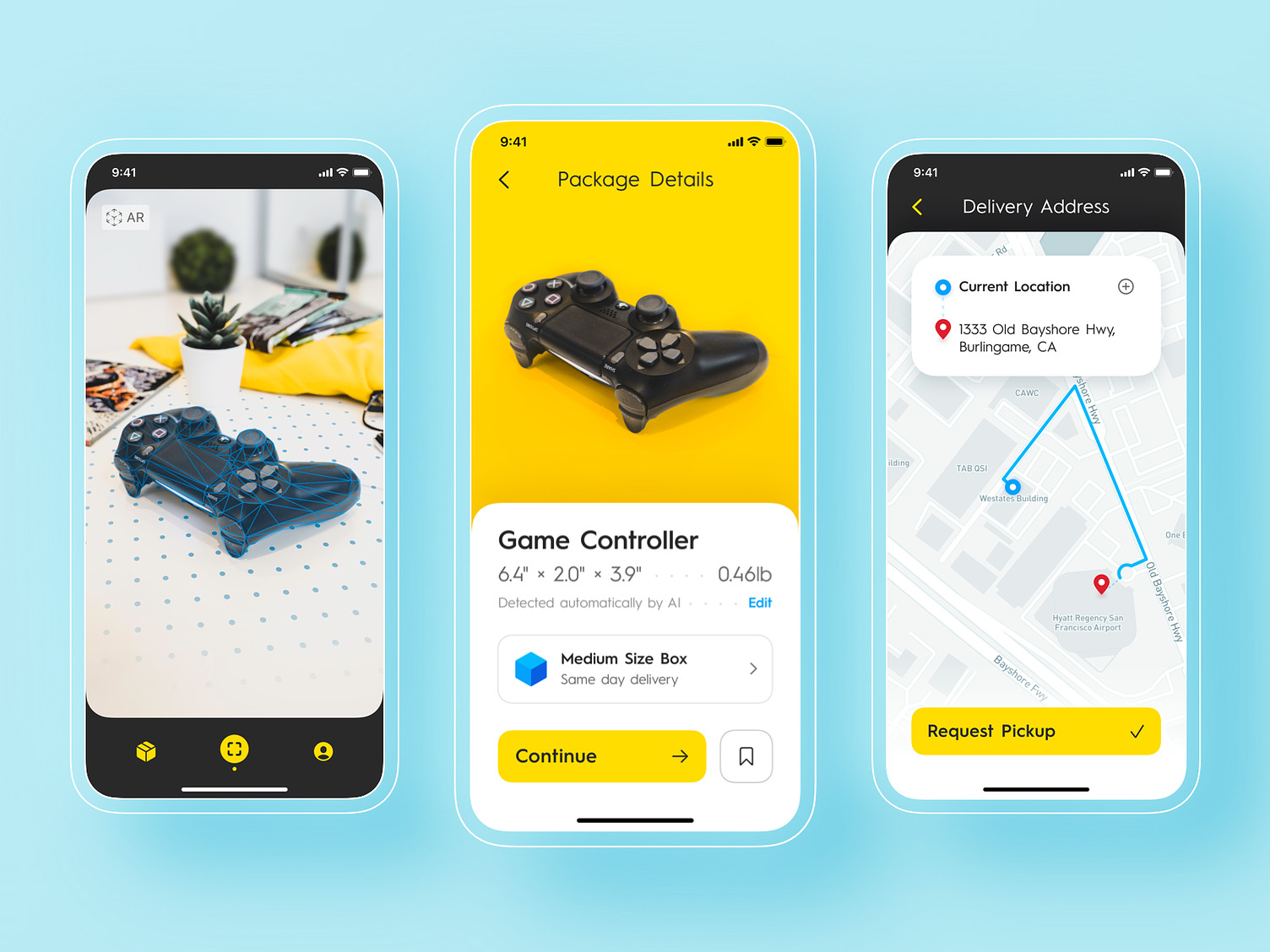 Design Elements
Item Scanning Screen: Point your camera at the item you want to ship. The UI is clean and straightforward, guiding the user through scanning.
Bottom Panel Menu: Houses three main icons - 'Package List,' 'Scanning Screen,' and 'User Profile,' offering quick navigation.
System-defined Item Screen: Post-scanning with AI, a screen displays the identified object with its dimensions and properties. An 'Edit' button is available for manual adjustments.
Transition to Item Sending Screen: A 'Continue' button leads the user to choose the parcel shipping method once the item properties are confirmed.
Map with Shipment Tracking: Real-time mapping to track the status of your shipment, directly integrated within the app.
Interaction Flow
1 Point the Camera: Open the scanning screen and aim the camera at the item.
2 Data Processing and Editing: Wait a moment as the AI processes the image and fetches the parcel's details. If necessary, user edits the item's data.
3 Method Selection: Choose the recommended packaging and handling options for shipped parcel or your preferred method.
Benefits
The UI/UX design concept is an indispensable tool for businesses and individuals, particularly those needing to process large quantities of parcels. It reduces manual work and speeds up the handover process to local delivery services.