Corporate self-learning mobile UI/UX design concept
Designed by application UX experts, this corporate self-learning mobile app merges convenience, competitiveness, and capability-building into one platform. It allows management to keep tabs on employee engagement and motivates staff to advance their skills in a gamified, measurable manner.
Functionality
This mobile app design concept is a platform for employees' self-education to enhance their qualifications and career growth. It is a comprehensive tool for learning, tracking, and competing within the company's ecosystem.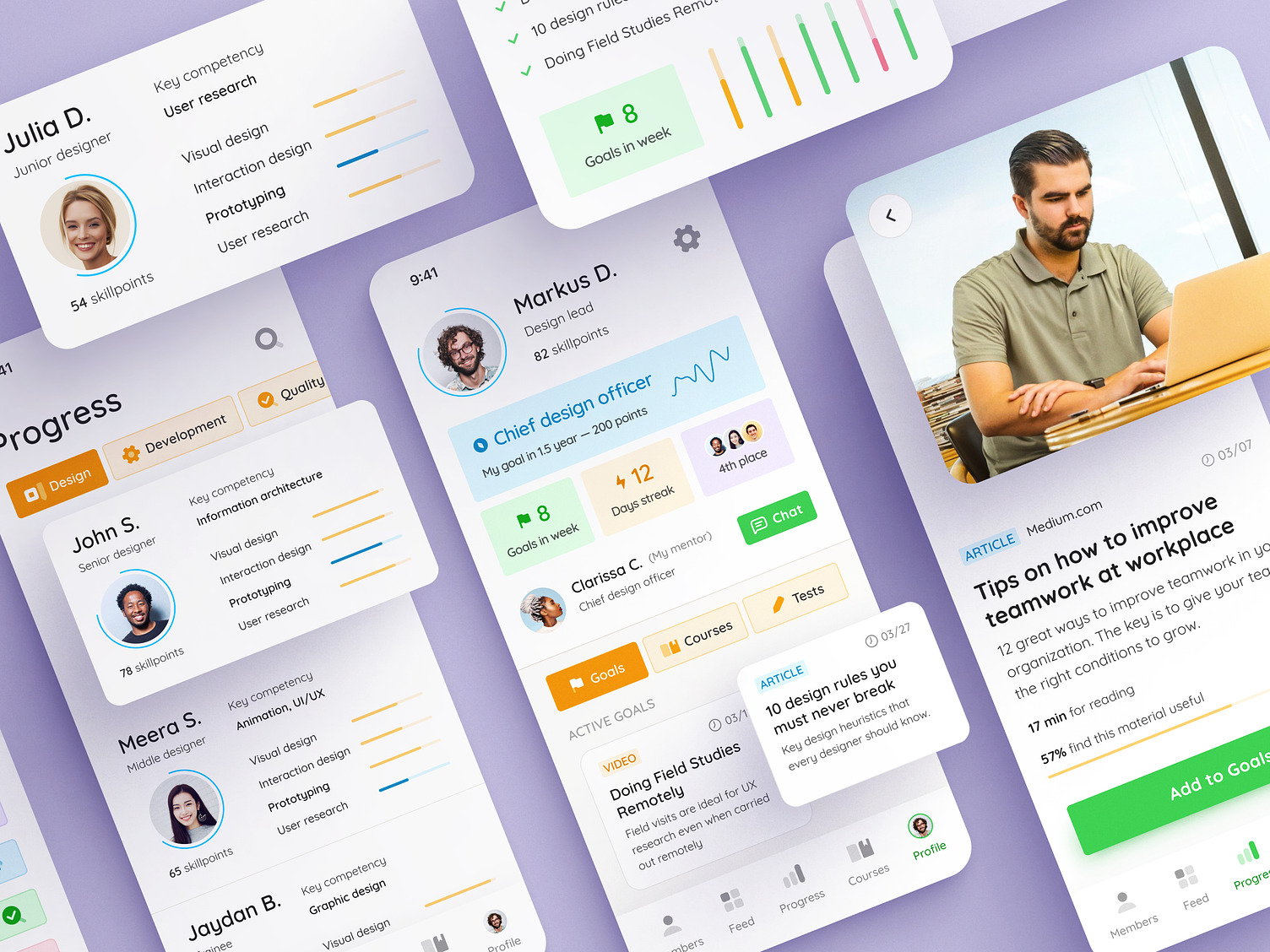 Design Elements
Dashboard with Progress: A real-time monitor of each employee's progress, quantified in skill points and depicted via dynamic progress bars for each skill.
Employee Profile Screen: This screen shows the employee's avatar, accumulated skill points, goals, achievements, ongoing courses, and proficiency level.
Tab Bar: Easy navigation with a tab bar containing options for 'Members,' 'Feed,' 'Courses,' 'Progress,' and 'Settings.'
Task Cards: Displays current tasks for learning new skills, complete with a "due date" and the achievable skill points.
Interaction Flow
1 Dashboard Access: Open the app to view the dashboard filled with tasks for skill development.
2 Task Completion: Choose a study, complete it, and update your status in real time.
3 Rating Upgrade: Completing tasks rewards you with skill points, contributing to your overall standing within the company's leaderboard.
Benefits
Mobile Adaptation: Transfers the potential of web-based platforms onto a mobile device, making learning and tracking more convenient.
Managerial Oversight: Leaders can track employees' progress and engagement levels effectively.
Competitive Learning: Through gamification and a competitive atmosphere, employees are more motivated to acquire practical skills relevant to their work.