Corporate hardware management app design concept
Crafted by application designers team, this design concept offers an innovative approach to managing smart mattresses. Users can actively monitor, analyze sleep patterns, and adjust mattress temperatures, promising an unparalleled sleeping experience for households and hotels.
Functionality
The IoT app design concept is a comprehensive tool for analyzing and managing smart mattresses to enhance users' sleeping experience. It caters to individual households and hotels alike, ensuring maximum comfort.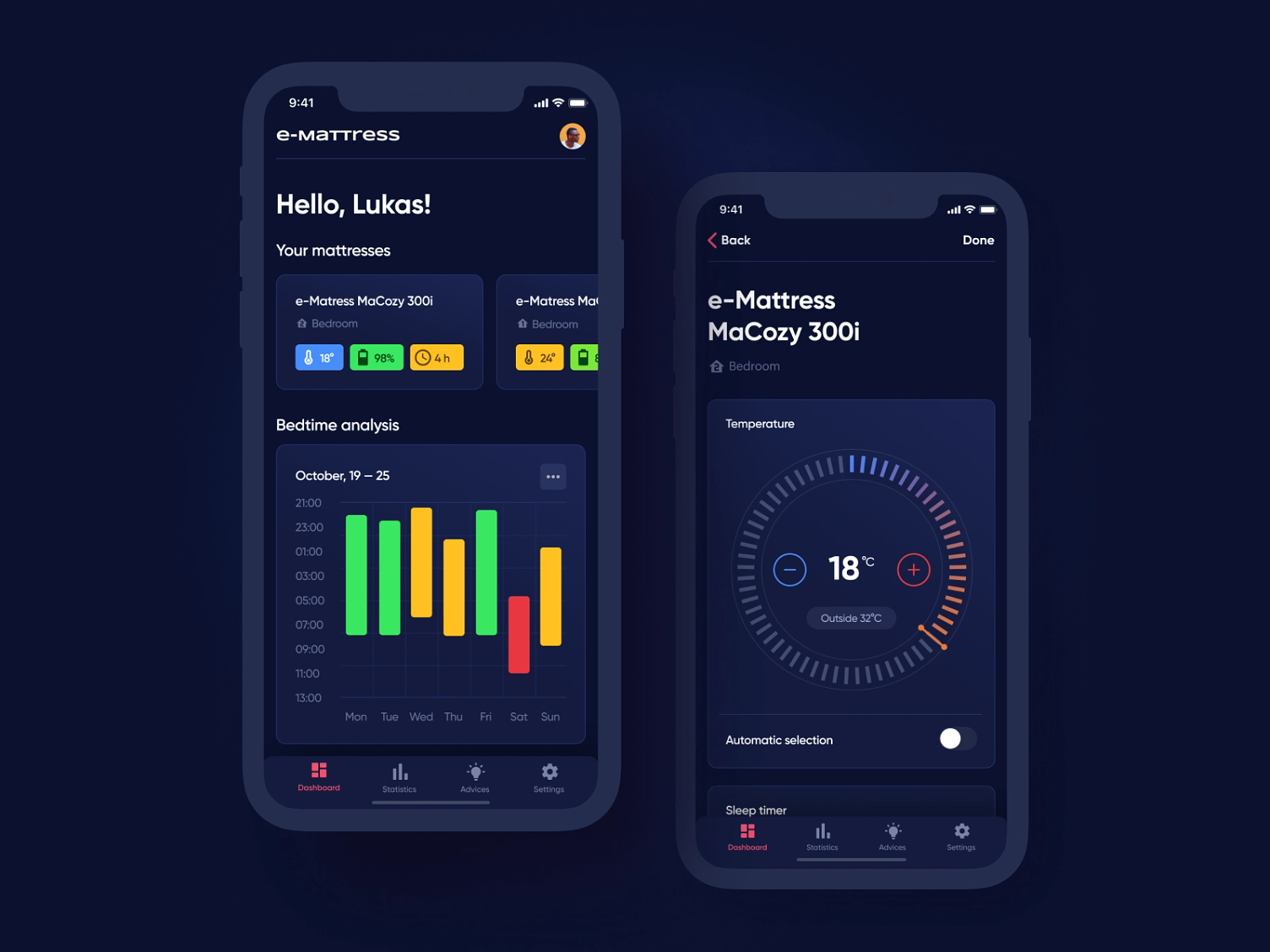 Design Elements
Centralized Mattress Display: Upon launching the app, users see a streamlined screen highlighting various smart mattresses.
Informative Indicators: Each mattress is enriched with vital indicators showcasing temperature, charge status, and sleep time.
Time-Based Sleep Analytics: Dive deeper into sleep patterns by selecting specific time intervals, offering insights into the quality of rest.
Temperature Tailoring: With the mattress temperature adjustment screen, finding and setting the ideal warmth for sleep becomes seamless.
Intuitive Navigation: A tab bar menu panel ensures smooth transitions between crucial features like the dashboard, statistics, activities, and settings.
Interaction Flow
Access the main screen, displaying all smart mattresses.
Dive into sleep quality analytics, further refining views by selecting a desired time interval.
Conveniently choose and set the preferred mattress temperature.
Benefits
This app design concept ensures timely maintenance for household owners and hotel managers by actively monitoring every mattress's health.
The inclusion of sleep analytics empowers users to identify and set the most conducive temperature for optimal sleep.