Logistics App UI/UX Design Concept
Crafted by Ramotion UI/UX designers, this design concept combines real-time tracking, intuitive controls, and smart path optimization to offer a streamlined and efficient parcel management experience. Users gain control, agility, and actionable insights, all encapsulated in a sleek, user-centric design.
Functionality
The core functionality of this UI/UX design concept revolves around logistics and parcel management. Users can monitor the real-time status of their shipments, avail of delivery support, and acquire all pertinent information about their parcels. Whether you're sending or receiving, every detail is a click away.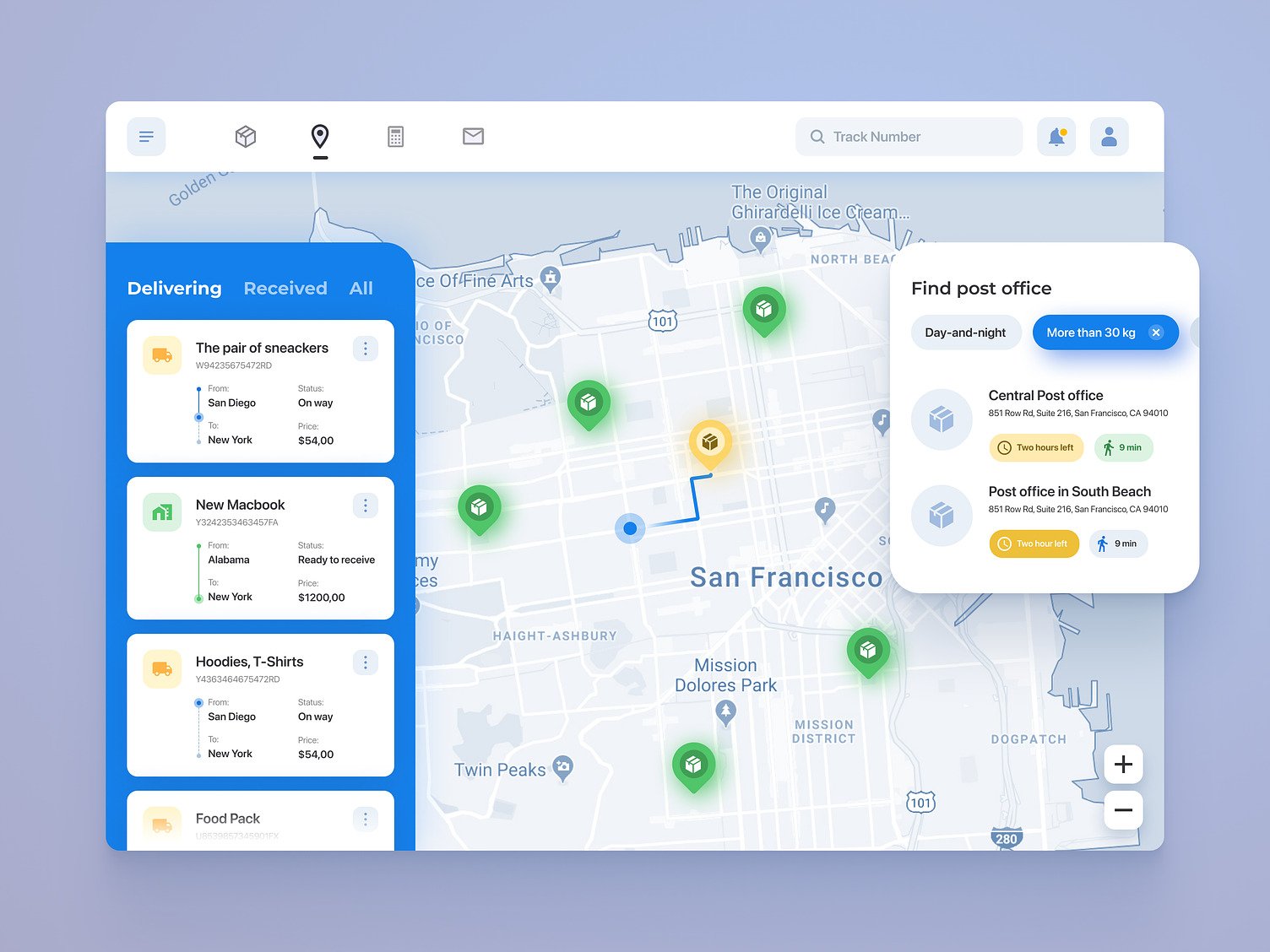 Design Elements
Top Menu Panel: Positioned at the top, the panel houses a tab bar to smoothly navigate different functionalities like tracking, support, and shipment details.
Branded Icons: Intuitive and self-explanatory icons to quickly guide the user through various operations.
Tracking Number Field: A prominently placed field where users can directly enter their tracking numbers for immediate parcel status.
List of Parcels: On a background map, parcels are visually marked and labeled, divided into "Delivering" and "Received" for easier identification.
Background Map: A geographically accurate map is the backdrop, enhancing spatial understanding.
Optimal Path Line: The map displays the most efficient route between departments, with waypoints at various departure spots.
Interaction Flow
1 Select a Department: Click on a department on the map to focus on its associated parcels.
2 Determine Parcels: Identify the packages you want to track or manage, differentiated by sent or received labels.
3 Perform Actions: Execute necessary operations like tracking, rerouting, or contacting support through intuitive UI controls.
Benefits
This logistics application design concept drastically speeds up the shipment management process while suggesting more efficient parcel delivery paths. This saves users time and cost, making the logistics cycle more agile and responsive.