Package Delivery Robot App Design Concept
Mobile app design experts from Ramotion team glad to share this concept that modernizes robot package delivery by enabling users to send parcels such devices. With intuitive design elements like real-time maps and live video feeds, the app streamlines the delivery process for ultimate convenience and efficiency.
Functionality
The app is designed to facilitate package delivery through automated robotic devices, such as drones or robots. Its functionality ranges from package selection to route management and real-time tracking.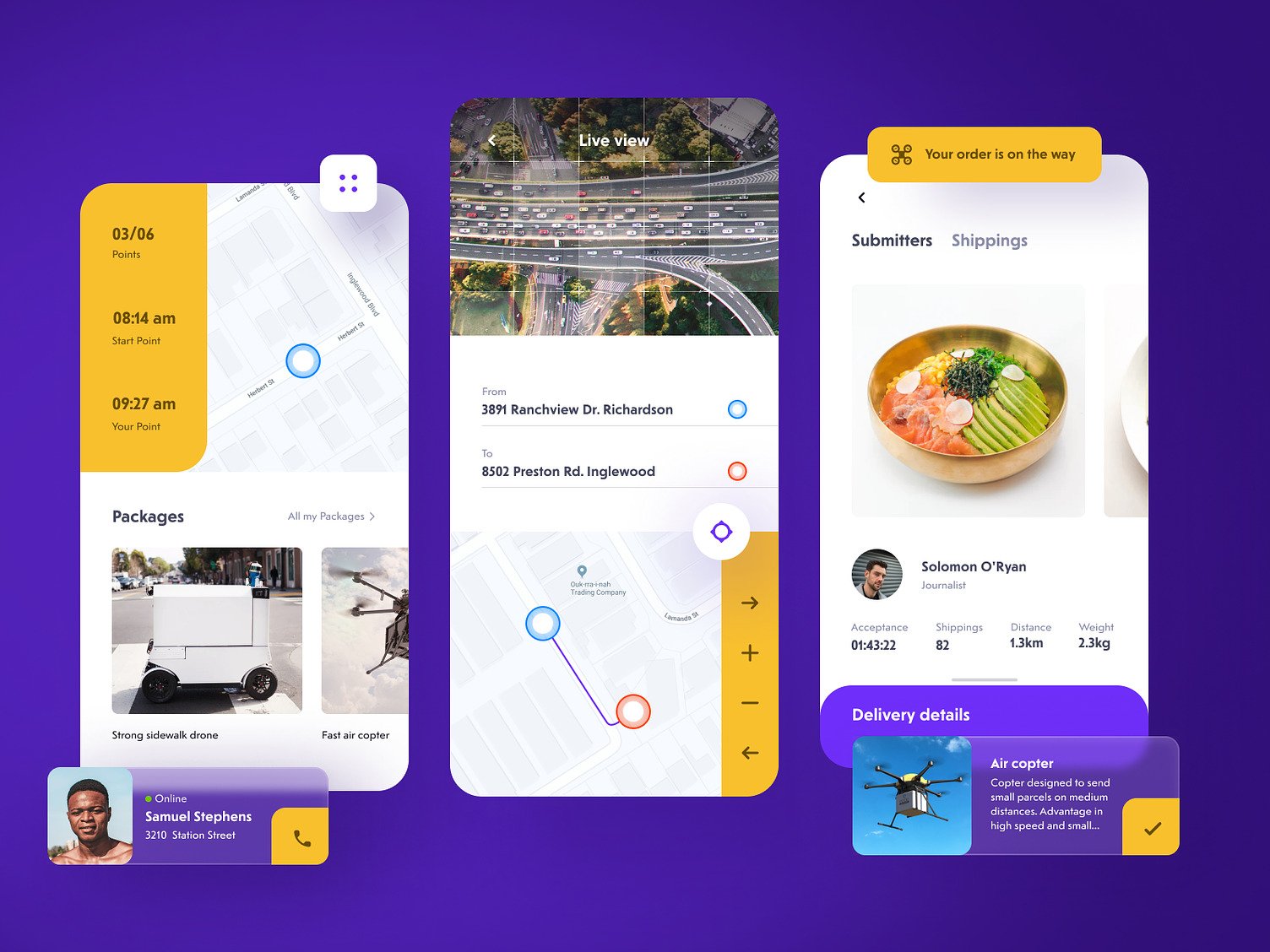 Design Elements
Map Screen: A live, interactive map displaying available robotic devices and package routes.
Interface Cards: Cards with essential information about each available drone or robotic device, including load capacity, speed, and ETA.
User Profile: A dedicated space to store personal details and package history.
Route Entry Field: A search bar to enter or select the destination for package delivery.
Online Video: Live video feed from the drone to monitor the package during transit.
Package History: A detailed history of sent packages, including tracking information, timestamps, and delivery status.
Branded Colors: A consistent color scheme to align with the brand's identity.
Intuitive Icons: Easily understandable icons for quick navigation and action within the app.
Interaction Flow
1. Select Package: The user can choose the package they wish to send from a predefined list or enter custom dimensions and weight.
2. Select Robot: A list of compatible robotic devices is displayed for selection based on the package details.
3. Enter Route: The user manually inputs the delivery destination or by selecting a location from the map.
4. Send Package: After confirming the details, the user can send the package, initiating the drone's or robotic device's journey.
Benefits
The application offers the ultimate convenience in package management, enabling users to easily select from a range of nearby robotic devices suitable for their parcel delivery needs. This modernizes and streamlines the delivery process, making it more efficient, secure, and time-saving.